Monaural Power Amplifier
P-100 series
Bewith small, high-performance mono power amplifier
that approaches the essence of audio reproduction
The P-100 series is a compact, high-performance mono power amplifier that requires a "one amplifier per channel" and "one amplifier per speaker" audio setup. With a light and compact design with a width of only 187 mm (excluding terminals) and a mass of 497 g* with a magnesium alloy "MAGNETOLA" body dedicated to acoustics, it enables system plans that approach the true essence of audio reproduction, from simple passive 2-way with one on the left and right channels to digital full multi-channel system driving each speaker completely independently. The audio circuit features the BSZ1, an original op amp jointly developed by BEWITH and Nippon Radio, as well as discrete output stages based on the traditional Air Circuit concept and custom-made power transformers with a low loss magnetic core and high purity oxygen-free copper windings. to achieve exceptional sound purity. Enjoy the world of "Infinity Channel Separation" that can be achieved with mono power amplifiers. *The P-100MC has pure copper on the side and bottom plates has a mass of 660 g.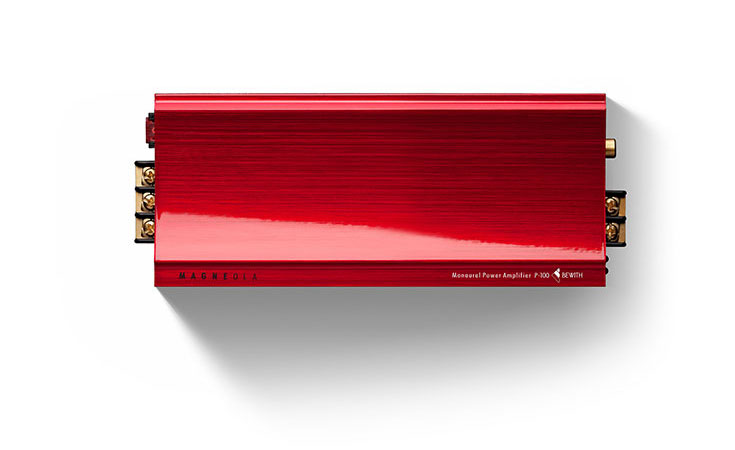 75W Mono-channel Power Amplifier

P-100R

This is a mono-channel power amplifier that uses the original magnesium alloy for acoustics "MAGNEOLA" for all of the main body and side and bottom plates. And it is the deep sunrise red clear gloss paint shines in the concave design, creating a gorgeous audio space for your car.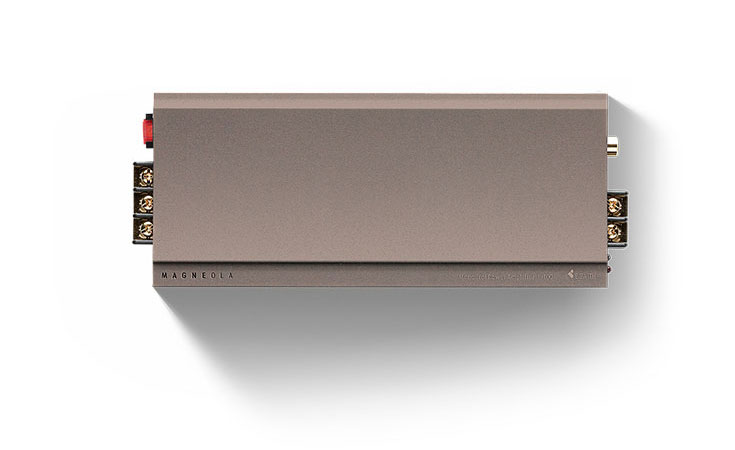 75W Mono-channel Power Amplifier

P-100 rikyu

A variation model of the P-100 series designed in the traditional Japanese color "Rust Rikyu". Product specifications including the all-magnesium housing, are the same as the P-100R.The P-100 Rikyu is a perfect color combination with the Bewith Plug & PLAY DSP series and the DSP controller.
75W Mono Power Amplifier

P-100 MC

A specialy tuned version of the P-100 series that combines a jet black baked paint finish MAGNEOLA main body that takes advantage of the original texture of magnesium with a side plate (2.4 mm thick) and a bottom plate (1.2 mm thick) made of solid copper plate. One of the attractions is the outstanding S/N feeling and richer musical expressiveness.

Brass Mounting Brackets and Brass Screws
BEWITH original brass mounting brackets and brass screws with excellent corrosion resistance and acoustic characteristics, suitable for long-term use

Bottom Plate and Side Plate
Bottom plate (1.2 mm thick) and side plate (2.4 mm thick) exclusively for P-100MC using thick pure copper plate
P-100 Series Special
In addition to the above regular models, the P-100 series also has four special colors, "Royal Blue Clear Gloss", "Egalite White (Solid Paint)", "Chrome Yellow (Solid Paint)", and "Jade Green (Solid Paint)", These are available in limited quantities. Please contact your nearest BEWITH product dealer for details such as price and delivery date.
Royal blue
clear gloss

Egalite white

Chrome yellow

Jade green
SPECIFICATION

| | |
| --- | --- |
| Power Supply Voltage | 14.4V DC (11.0V-15.0V compatible) |
| Rated Output (Distortion) | 75W x 1ch (14.4V, 4Ω, 20Hz-20kHz, 0.03% THD) |
| Frequency Response | 10-40,000Hz (-1dB) |
| S/N | 98dB |
| Impedance | 4Ω |
| Damping Factor | 450 (4Ω: 100Hz) |
| Input Sensitivity | 0.2 - 6.0V |
| Fuse | 10A x 1pcs |
| External dimensions | W187 x D80 x H43 mm |
| Weight | 497 g |